Interview for World Aids Day 12/1/10
Today is a day of reflection, of an epidemic that we still are in the midst of fighting.
Growing up as a child in the 80′s, I can remember all too clearly the panic and the fear of the disease. I never knew that one day I myself would be a statistic. How it happened is seriously pointless to discuss, because in  some ways I fit the stereotype of the early victims of the disease (I am a survivor, not a victim…but I am an outspoken gay man who loves make-up and beautiful women) who passed in those days.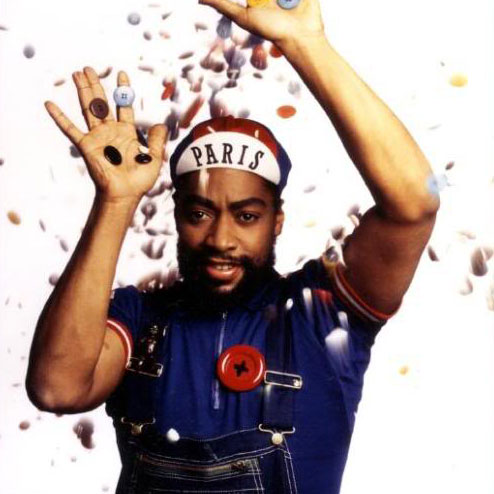 Patrick Kelly
During that first decade, no business was hit harder by the epidemic than the fashion industry: stylists, make-up artists, fashion designers, photographers, and models of both sexes. This was an industry I myself gravitated towards as I myself was growing up, and as I was growing into an adult before they discovered that multi-drug therapy wasn't so much a cure, but could prolong life.
Designers like Patrick Kelly, Halston, Perry Ellis, groundbreaking makeup artist Way Bandy and a supermodel named Gia Carangi who, in their prime and at the height of their careers passed away from AIDS, have left a legacy of influence that still exists today within the fashion industry. They are prime examples of what defined an era. Their designs, their photographs, the faces who changed an industry…their art…still are used as a reference point for people who collect, or aspire to design or model themselves.
Perry Ellis
Those people I named are amongst the most well publicly well known, as victims in the first decade of the disease. But there are so many others who never made the headlines, or had books written about them, that contributed to that fantasyland that is the fashion industry.Now, you all know how much I love a fashion photograph that nabs my attention. Sometimes the clothes to me are secondary, it is the model wearing them that entrances me first. I understand now what Diana Vreeland once said to Grace Mirabella about a fashion shoot "Give me a dream!" she ordered.
Entranced, that is pretty much how this whole little entry snowballed into what I am sharing with you today. I am paying my respects to the people I admire, and I have a lovely acquaintance who has generously allowed me to ask some questions.
I was looking for a particular photograph of a Calvin Klein advertisement featuring supermodel Patti Hansen (wife of Keith Richards). when I stumbled across a couple of websites maintained by one of Patti's fellow supermodels, a woman named Eva Voorhees.
Eva Voorhees by Rico Puhlman
Eva is one of those people so passionate about the work she did and extremely loyal and grateful to those artists as well. She has the same passion that anyone else has with the interest in the industry co-workers both past and present to ensure that the models will always be remembered and that their work is celebrated. She worked with these people, she has fond memories of these people.
Well, you know me. Dangle a vintage photograph up that is fabulous, and you KNOW I will bite!
Anyways, I am getting off track!
After messaging one another back and forth and my sending her a few photographs for her to host on one of the many little projects that she has going, I asked Eva if she would be interested in maybe sharing some thoughts with me about the early days of the epidemic, her work as a model, and her opinions on how and what needs to be done to help eradicate the disease.
Eva Voorhees: Vogue UK 1979 by Eric Boman
This sweet woman said yes, and I am excited to be able to share with you a glimpse into the phone calls we had over the Thanksgiving holiday to get this entry executed.
What a treat I can say first off, not only is she a pistol who has a brilliant sense of humour, she is outspoken and passionate in what she believes in, intelligent and she has a lapdog…all things I admire in anyone….and you know me, it is ALWAYS a puppy that seals the deal for me on a person. In fact, when she called me on her cell phone Thanksgiving Day as she was walking her dog in a park, she giggled and kept apologizing because people kept coming up to pet her little girl as we were talking, a sweet and fluffy Chihuahua named: Johnny Depp.
I laughed back and said "I could be one of those people, so I understand!"
Here was a woman, to me who defies EVERYTHING you would think about a model, because of what rules and boundries she laid down for herself, not to mention just her personality.
I had to borrow this collage from a recent interview Eva did with Fantasticsmag. Links will follow later, but I just had TOO many pictures to choose from and this is only a handful of the greats she got to wear, and model in front of the lense for!
Eva Voorhees (in her twenties she legally changed it back to the original European orgin, from her birthname of Voorhis) a shy, introverted, animal loving girl hails from California, and was signed by Nina Blanchard, and then after Eileen Ford paid a visit, she arrived near the end of 1978 in New York signing to Eileen Ford's monster agency. Then as now she still loves animals and who was (and still is, to this day) in awe of the people in the industry that she came across when she went to New York to try her hand at modeling.
A week after her meeting with Eileen, she boards a plane and heads to New York City with 26.00 in her pocket and starts her go-see's across the city right away, walking in the only pair of shoes she owned.
"I wanted to cry sometimes because my feet hurt, but I just kept walking to my appointments."she has said to Fantastics magazine.
Eva has been before the lenses of the greats: Scavullo, Helmut Newton, Richard, Avedon, Arthur Elgort, Dennis Piel, Horst, Chris von Wagenheim (there are dozens more to list) numerous high profile campaigns for top design houses like Calvin Klein, Valentino, Perry Ellis, and cosmetic companies, not to mention a plethora of magazine covers. Her first magazine cover was in 1979 for Cosmopolitan.
She participated in the collection seasons, and said Perry Ellis was the show to always capture her heart. She loved the spirit and the energy his shows produced, sadly he is gone. The intense energy of the shows didn't work with her personality, but she said Perry always made it simple and she had fun. It was Perry who really pushed for the print models to get exposure on the catwalks.
Eva was also tagged with the nick-name "Greta Garbo", because she wasn't a party girl (she went to Studio 54 about 3 times and didn't care for the pomp and bullshit of having to be "chosen" to get into the club by the bouncers), she would sometimes have 3 back to back assignments to complete and afterwards at home just preferred to sit in front of her TV with her cats.
Not so much interested in the celebrity recognition that came along with her work, she didn't hire a press agent (Like Jerry Hall) to put her name in the columns, she was just a professional dame doing a job and liked to keep it that way.
"I got a lot of flack, which at times was hurtful." she told me. "I was painfully shy, and though aware of my great fortune of getting as much work that I was being literally handed, I was sensitive to what people were saying to me because I wasn't a party girl. Yes, I had my friends that I had made through work but it was never about the being a "celebrity," she told me about celebrity recognition.
But her hard work paid off, and we are blessed she continues to work hard to preserve the memory of the people who she not only worked with, but for people of every era for every level of the business. I'm glad I got to chat with her, and that she indulged me and us all by coming to my little dog and pony show to answer my questions and so I can encourage other fashion lovers to her sites.
When the illness began to become known in the industry, what was the reaction from your experience?
All of sudden, there was a really strange illness we were hearing about that was whispered, and then of course the newspapers REALLY reacted to the story and it created a panic. It was the gay mens disease according to the headlines. This kind of hit and happened out of nowhere. It was the early days of the 1980′s.
What were some of the incidents that you personally witnessed?
I would be at work, and there would be whispers…whispers of paranoia amongst everyone, or someone's feelings would get hurt extremely easily (and considering the medium we were all in it just heightened emotions) For example, I was getting made up for a shoot and I mentioned to the stylist about a hairstyle that I had liked that another artist had done. The stylist had an upset (who was working on my hair at the moment) and left the studio. It was then mentioned to me that he had this illness. 2 months or so later, he was gone. It began to kind of snowball from then, and people began to die and disappear. Then there would be the whispering of course, that "so and so" passed away from the illness.
How do you believe the industry reacted?
I believe that the fashion industry, despite what was going on really did in those early days…did what they could to put on a brave face. There were those who were in denial, who perhaps not only had the disease, but then there was also the factor of people denying rumours to squash them- to protect those who were possibly infected from having their feelings hurt. You know how rumours work, and the fashion industry was no different. All it would take was for one person to say or speculate that "so and so has AIDS." and the rumours would become rampant. It could really make an assignment difficult, because of the fear that people felt. People wouldn't want to work together out of fear of contraction.
Which of course could make things difficult?
Of course, you couldn't help but be concerned for your safety and well being. We just didn't know. Like for instance, a makeup artist working with me licked a q-tip and I reacted. That thing was going to touch my eye? No way! I mean if you think about it, that isn't sanitary to begin with but we didn't know the exact nature of contraction or passing on the disease.
Cocaine was the big drug at the time, and I wasn't a drug user. I was too shy and scared. I was always trying to eat healthy and ate macrobiotic, which of course in the beginning I got a lot of flack for. I noticed that dietary concerns in reaction to the early days of HIV amidst the people I worked with, change. Where I once was teased ruthlessly for eating healthy, all of a sudden these same people switched to a macrobiotic diet, which they thought might work as a preventative measure as it had found success with helping people with cancer. So there were people who thought that if they ate macrobiotic, quit using drugs and cleaned up their act, then they wouldn't die. Lots of people became more health conscious, that isn't to say that there weren't those who still went after substances and life with reckless abandon, but I did notice a shift in dietary concerns amidst people.
Gia Carangi for Giorgio Armani (about 1980)
By the time that you had started working, Gia Carangi was already an established and sought after model. Did you recognize Gia anywhere in the film of the same name as she was portrayed by Angelina Jolie?
No. I thought the film was an extremely big piece of fiction. The woman portrayed was not the woman that I knew in real life.
We always hear all about how she was this heroin addicted model with so many problems and so many people focus on that. I would love it if you care to dispell that, and give some insight to her as a person?
Oh she was hilarious! She had such a great sense of humour and was seriously like a little kid: always playing jokes on people, just being a little shit. She was always up to something. If a booking with her was happening (at least in my early days of working with her, she had about a year's worth of work on me) you knew you were in for some sort of entertainment at someone elses expense. Her wit was unparalelled, and like a little kid getting their hands slapped for misbehaving. I was on one of my first go see's for Glamour magazine, at John Stember's studio when I saw her first in person, and as she was getting made up. She just terrorized the make-up artist named Joey Mills by sticking straws between his legs while he was working. You could see his growing frustration as she kept poking him with straws as he told her to stop, and I can still just hear her laughing as she kept at it. (Joey was also the make-up artist for the models in a Faye Dunaway film "Eyes of Laura Mars")
I have always loved seeing the photographs of her laughing and smiling, you can just tell she had troublemaker written all over her face!
Oh GOD did she ever! Even though she and I were both polar opposites (I was shy and she was very outgoing) she really just enjoyed and got a big kick out of life and loved to have fun. She really almost gave you a kind of permission to not take yourself or life too seriously. She just seriously was such a lovely woman.
I had read somewhere that she once gave another model a grape laced with ipecac.
(Eva laughs) I don't know if that is really true, but I wouldn't have put it past her. She was always up to something.
Now I remember you once mentioned on your website about a trip to Jackson Hole, Wyoming with Gia. You never went into details, but you said she was in top form for that trip.
(Eva laughs again). Yep. Ok, it was myself, Gia, Barbara Minty (wife of the late Steve McQueen) and Rico Pulhmann for Harper's Bazaar. We had just finished working for the day and Gia invited me up to her hotel room to visit with her as she was writing postcards to people. One of them was a postcard that she was mailing to her agency which was a photograph of a river, a river of nothing but white rapids…and on the card she signed "Having fun at the bottom of the river, wish you were here. Gia." That was just the type of person she was. Her humor was just twisted sometimes.
Gia off hours.
When she was off assignment, she dressed down pretty masculine: t-shirt and jeans. No makeup. She looked like a pretty BOY more than anything, not this sexy model. She was also short, around 5'8, just this dinky little thing with a beautiful figure.
After the assignment was completed, and we were heading to the airport, I wasn't prepared for what was about to happen next. Like I emphasize, I seriously was this easily scared and shy young woman. Gia wasn't out of control at that point in her career, (in the sense of her later acquired heroin addiction) but again she was all about having fun no matter the cost. So we're at the security gates putting our luggage on the belt and we were asked if we had anything to claim as far as a weapon might go,
Gia announced she had a gun.
I was mortified, felt my heart stop, not to mention the blood leaving me completely so I am sure I was as white as a sheet.
"Gia!" I was tugging at her. "We're going to get in trouble!" I was scared.
"Oh don't worry about it!" she laughed. "Nothing is going to happen!" and as we made our way to the gates, there were all sorts of security people following us around.
Then, this girl who not many hours before was painted up within an inch of her life, looking like a glamour girl, walked up to a man reading a Cosmo magazine, of which she was on the cover and in not so many words let them know it was her on the cover, which in of itself was hilarious because the contrast of the girl on the cover compared to who was standing in front of them was seriously like night and day.
Then the troubles began…
The modeling industry in no way shape or form, is known for prevention much less looking out for the models. I watched girls with substance abuse issues function, but then again all that mattered at the end of the day was getting that photograph out of the model. I recall a photographer laughing once about a model nearly having a breakdown on a shoot, and the photographer basically said he needed the shot, all this emotional stuff can happen later-they have a deadline to meet. No one helped these girls at all.
Gia began to fall apart, and the people around her didn't do anything to help her. Throwing her a job wasn't going to help her either. She created a new genre of model, and became a legend in many respects, and many of them for the wrong reasons. Her girlfriend was also a peer and at the time looked a lot like Debbie Harry (whom Gia liked), and it is known that their relationship was a roller coaster. It upsets me that to this day, that this woman is making money giving interviews about Gia and saying "Oh she was this and she was so great…" and in the day, she did absolutely nothing to help Gia. To the best of my knowledge, I don't believe some of the photographers and clients she may have worked for did either. So, these people who were supposedly close to her are now saying "We didn't know the extent…" upsets me, because it is untruthful and completely disrespects who Gia was as a person. This was a person in pain and someone who needed help, and they did nothing. The glorification of her bothers me. She was a human being who had a problem, why focus on that problem still? Focus on the person.
Several times, she was trying to make a comeback after she had burned the bridges she had due to her drug use. I would hear "Gia was here today, trying to get some pictures taken."
It saddens and sickens me, that for as much money that she made for people, the body of work that she did which though was brief (she was on the top of her game and hit there very quickly) that no one was there when she died. She died alone, a welfare case in a hospital. I didn't know what was going on with her health until after she passed away, and even though we were not the best of friends she was someone I admired and respected. Had I known what she was going through, being the type of person I am…I would have made an effort to see her and let her know she wasn't forgotten and that someone she worked with cared that she was sick and alone. That is just my personality.
Eva Voorhees for Fantasticsmag May 2010
How do you feel that in the present time, we will be able to combat this epidemic?
I wish the religious fanatics would take a step outside, and see what it is they are doing to not help matters any when it comes to the crisis. We know exactly what it takes for prevention, it is 2010. We have known for years what can be done to curb the disease and perhaps send the numbers into retreat. But when you have someone like the Pope not doing anything to be of help, with his head stuck in another era…well, that is so dangerous! You cannot be a figure, a figure that perhaps people in the countries who are really in dire straits with the illness, is a figure that other than their families is all they know: they have no education and all they know is their religion. You cannot go into these countries and fuel the ignorance by not giving them the tools which have been proven to save lives. The information out there about prevention saves lives, and you have a Pope who says that condoms make the epidemic worse and does nothing as his flock dies from lack of information? How can he sleep at night feeling he has really done his job? Oh don't even get me started, as it just makes me furious! We have countries that need not only financial help and medication, but the Pope would help SO much if he just went into these countries and assessed the fact that these people are not of a Western lifestyle and take that into account, and help these cultures. There is so much that could be done, and it isn't being done.
She is so right, we have so much more that we need to do to combat and eradicate AIDS on the planet. I really enjoyed my chat her and I am so blessed that she allowed me to visit with her like she did. What a sweetie! I want thank Eva for allowing me to pry!
Well, this wraps up my World AIDS Day entry, and I had so much fun putting it together. Now, it wouldn't be an HIV related entry, without me plugging the M.A.C AIDS Fund lipsticks. Remember that 100% of the proceeds from a Viva Glam lipstick or lipgloss go to the M.A.C AIDS Fund, which has raised multi millions to help men, women, and children living with or affected by HIV. The holidays are coming, and something from the line (right now it's a Tartan story for Christmas!) I can honestly say that I have seen programs flourish, from the grant that M.A.C gives them.
So get your Viva Glam on, help a cause, and look fabulous while doing so.